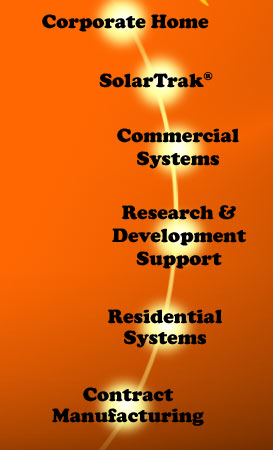 Renowned for its superb performance and unsurpassed durability, the SolarTrak® controller by Precision Solar Technologies Corp. is the most dependable solar tracking mechanism in the world today. The SolarTrak® controller has been used in commercial/industrial and research applications, and is compatible with both single-axis and dual-axis systems. Its ability to track the sun accurately within 1/20o makes the SolarTrak® the best choice for high-precision research programs, and its rugged construction helps ensure that the controller will perform in even the most difficult environmental conditions. The SolarTrak® has operated flawlessly in temperatures as low as -40o F, and without difficulty through summers in the desert of Yuma, Arizona.

PST's SolarTrak® has been in operation at locations throughout the world for ten years. In addition to a broad variety of research programs, commercial applications include approximately 35 MW of electrical generation around the world, about 25 MW of which is associated with projects in Europe. The SolarTrak® has been used for heliostat projects, solar furnace applications, solar trough facilities, photovoltaics, and fiber optic daylighting research. With 10 years of commercial use and thousands of unit-hours of performance, no SolarTrak® controller has ever failed in the field.
Unlike sensor-based controllers, the SolarTrak® uses celestial equations to calculate the exact position of the sun. Factory-calibrated and programmed with the appropriate latitude and longitude coordinates, the SolarTrak® "knows" the position of the sun regardless of cloud cover. This can be critical in partly cloudy situations where the bright edge of a cloud can "fool" a sensor. Tracking the sun on cloudy days may also be highly beneficial for systems that can collect some solar radiation (infrared, for example) under cloudy conditions. The SolarTrak® can ensure that systems are oriented properly at sunrise and can help protect systems by "stowing" them in safe conditions during unfavorable weather conditions.
Recognized by research organizations worldwide as a superior controller, the SolarTrak® has been used in projects at Sandia and Oak Ridge National Laboratories (U.S.), Renssalaer Polytechnic Institute (U.S.) the University of Loughborough (U.K.), the University of Reading (U.K.), and others.
The SolarTrak® controller has been deployed successfully in ten nations, including the United States, the United Kingdom, Australia, France, Germany, India, Israel, Portugal, Spain, and Switzerland. The SolarTrak® bears the CE mark, and can be deployed in the European Community without delay.
Precision Solar Technologies
10 Camino del Senador
Tijeras, NM 87059
Phone: (505) 281-0399
e-mail: TMLeonard@tapthesun.com